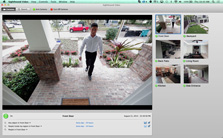 Mac System Requirements
Video recognition requires intensive processing by your computer. The minimum requirements for a single IP camera at QVGA are:
Mac OS X 10.10 or higher
2.0GHz Intel-based processor or higher
2GB RAM or higher
Minimum screen resolution of 1024x768
At least 25GB of free disk space per camera is required
An internet connection for software download, updates, and activation
Tips for running Sighthound Video on a Mac
Even Sighthound users who normally use Windows machines have written to us to say that they run a Mac Mini as a dedicated machine for Sighthound Video. While Sighthound allows you to upload your clips to a cloud service, the small form factor and ability to hide the machine in a closet make the Mac Mini a better bet in the event of a burglary.
Make sure that the power settings on the Mac are such that the computer does NOT automatically go into sleep mode. The Mac may be a great machine, but when it's asleep it doesn't run any software, including Sighthound Video. Go to System Preferences > Energy Saver. Click the Sleep Tab to see the first setting "Put the computer to sleep when it is inactive for." Set this at "Never."
If you are using the remote access feature of Sighthound Video's Mac surveillance software, which allows you to view your cameras and event clips on a web browser on machines that are not running the application itself, you may try using Firefox or Chrome rather than Safari. Our friends at Apple say they are working on a fix, but for now, Firefox and Chrome are the more reliable choices.